---
Conflict in South Sudan: Refugees seek protection in Uganda and a way home
Conflict in South Sudan: Refugees seek protection in Uganda and a way home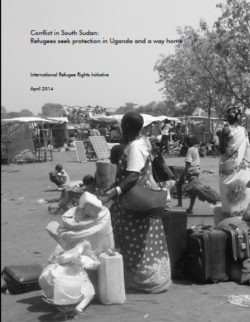 "We could not wait for our dead bodies to be found first"
Nearly a quarter of a million South Sudanese have fled to neighbouring countries, with Uganda taking the largest number – around 87,000. The International Refugee Rights Initiative's report, Conflict in South Sudan: Refugees seek protection in Uganda and a way home explores the immediate predicament facing these recently arrived refugees, and the longer-term implications for peace and security in South Sudan.
The report draws on interviews with Ugandan officials and refugees reflecting on the cause of their displacement. Those interviewed were adamant that the current crisis was a result of a major failure of governance in the country: "[t]his conflict is about politics. It is about greed for power." They also talked about ethnicity being instrumentalised and manipulated by those in positions of power in order to create "sides" in a fight for control: "…this conflict is not ethnic. The problem is leadership and democracy."
These refugees, most of whom had been displaced during the previous war in Sudan, are again living in camps in exile in precarious circumstances. They are afraid for their own security and are lacking adequate healthcare, with the humanitarian crisis growing by the day:  "[w]e had to look for safety as soon as possible and Uganda was the place because we had been here before." said one refugee woman. The fact that many are not strangers to displacement reinforces the tragedy that is unfolding, creating a terrible sense of déjà vu for those who had returned to South Sudan, full of optimism, leading up to and after independence.
Programmes: Causes of Displacement
Regions: Great Lakes Region, Uganda, South Sudan
Type: Library, Paper