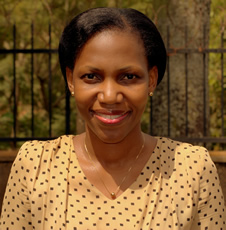 Salima Namusobya is the Executive Director of the Initiative for Social and Economic Rights (ISER) and an expert member of the Working Group on Economic, Social and Cultural Rights of the African Commission on Human and Peoples' Rights.She is a lawyer and human rights advocate who has specialized in international human rights law and forced migration.

Previously, she worked in various capacities with the Refugee Law Project (RLP), School of Law, Makerere University and also served as the Eastern Africa Coordinator for International Law in Domestic Courts (ILDC) – an online project of the Amsterdam Center for International Law and the Centre for Human Rights at the University of Pretoria, published by Oxford University Press.

As well as serving on IRRI's board, she also serves on the Boards of several NGOs including the Legal Aid Service Providers' Network in Uganda (LASPNET), Centre for Public Interest Law (CEPIL),  and the Governance and Public Policy Research Centre (GPRC).

She is a member of the Uganda Law Society, the East Africa Law Society and the Federation of Women Lawyers in Uganda.